Decluttering can make your home more pleasant to live in, and make day to day life easier. If you have less clutter, cleaning and tidying is easier to do and it's easier to find what you need. That means things get done quicker and there's more time for fun and relaxing. However, knowing all of that, doesn't make the actual process of decluttering any easier. To help you get started, I've put together 5 super simple tips that are easy to follow and will help you get through your declutter as quickly and painlessly as possible.
Break it Down into Smaller Steps
How do you eat an elephant? One bite at a time. The key to getting started on a big decluttering project is to break it down into smaller steps. Start by writing a list of the rooms in your home. Next write a list of each part of that room that needs to be decluttered. If things have become really bad, that list might start with the floor. If you're feeling overwhelmed, don't be afraid to make the steps really small. The surface of a chest of drawers could be one step and then each drawer, a separate step. Even though it will take time for your home to start looking different, seeing things being ticked off the list will help keep you motivated.
Use the William Morris Test
The artist and Poet William Moris is often quoted as saying "Have nothing in your house that you do not know to be useful, or believe to be beautiful". This is a great test to give to every item you are considering in your declutter. You can expand your definition of beauty to include things that bring you beautiful memories so don't feel like it means you have to get rid of mementos that you love! And in case you're wondering, books are definitely useful!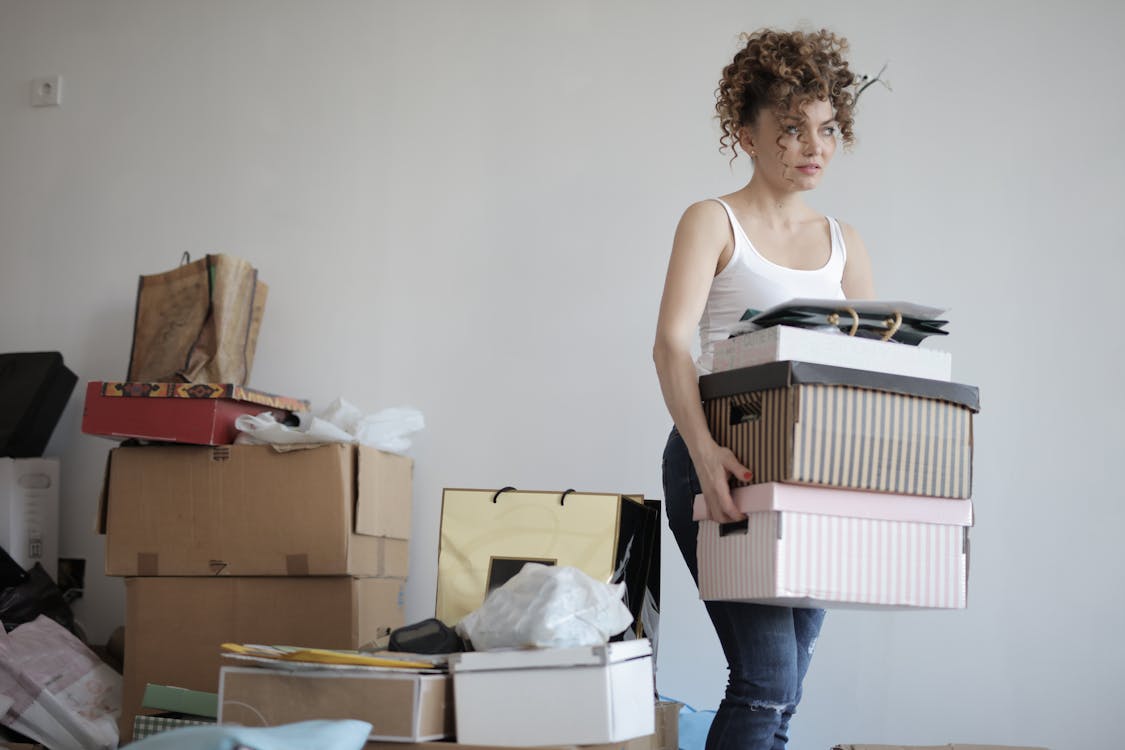 Have a Holding Area
Sometimes it can be hard to decide if something is useful and we are inclined to keep hold of things "just in case". I deal with this by having a few boxes in my loft that I call my holding area. I place items in these boxes and leave them there for a period of time to see if I use them. The period of time depends on the type of items. For clothes, I keep them a season and if I haven't gone to retrieve them, I get rid. For things you tend to use less often, like tools, for example, I might let them stay in the holding area a few years before I throw them out. Just make sure you have a dating system for the boxes so you know how long things have been there when you come to review them.
If You Have Children, Try Toy Rotation
If you have children, it's likely that much of your clutter comes from their toys. The best way to minimise this is by using toy rotation. This essentially involves splitting toys into 2 or more smaller sets and only having one set out at a time. It means there are fewer toys to create a mess and actually means your children play in a more engaging way with the toys that are available. If you'd like to know more, you can check out this Toy Rotation Guide
Have a Plan on How You Will Get Rid of Stuff
Clearing stuff out is great but if it all just ends up in bin bags piled in your porch then you'll end up feeling worse than when you started. Getting rid of stuff can actually be harder than you think, so having a plan before you get started is a good idea. Your options for each item are:
Sell it – You could sell items on Facebook marketplace, eBay or at a car boot sale.
Give it to Someone you know – This might be a good option if you are getting rid of baby stuff and someone you know is having a baby
Give it to a charity shop – Try to find somewhere accepting donations before you start and check what they will and won't accept
Put it in the rubbish bin – You might be able to put some items in your bin or kerbside recycling
Take it to the Dump – For some larger or specialist items the local dump might be your only option
Upcycle it – If you're creative you might be able to turn items into something new but try to be honest with yourself and only keep them if you're sure you'll actually do it
As you're decluttering, separate items you're getting rid of into piles depending on where they are going, then periodically take them to their new homes. Avoid leaving it all until you've finished as it's likely to become overwhelming.
Now that you've read these tips to help make decluttering simple, hopefully you're feeling inspired to get started, so take the first step and get started on your decluttering to do list.